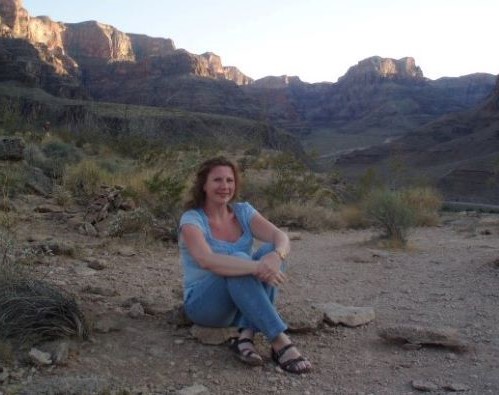 Meet Kate…
From faking it to making it,
and how a painful gift of truth led me
to my passion for helping others
This picture was taken on a trip to the Grand Canyon in 2008. 
To everyone else, I had it made, a great career, perfect personal life. 
The truth was that I was dying inside. 
This is what anxiety, depression, and mental ill-health looks like.
Who am I?
That's a big question for anyone, but here's a few things that might help you get to know me a little better:
I love my family, both 4 legged and 2 legged (Here's me with my fiancé Wayne, and our boys Ben and Jerry)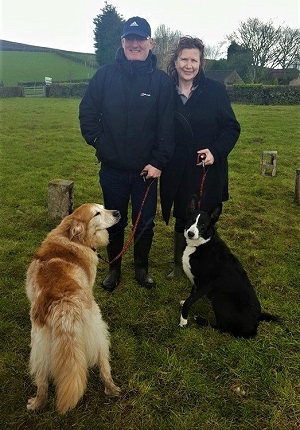 I'm lucky enough to live in the High Peak area in Derbyshire. I adore the peace and tranquillity of this gorgeous place. Although I do enjoy the excitement of soaking up the hustle and bustle of the city from time to time, my heart lies in the country.
I'm a therapist, coach (and therapeutic-coach!) but before this, I was a solicitor for 20 years. I've seen and experienced the legal-corporate world from all angles, (from opening the post to managing departments, offices, and regions). I understand what it's like to forge a career in a highly demanding and regulated profession, and battling anxiety and depression at the same time.
I'm a life-long anxiety sufferer
and I know just how awful it is to live with.
The constant gnawing fear, the uncertainty, lack of confidence, sleepless nights, and racing hamster-wheel of never-ending thoughts.
The desperate wondering if it will ever get better, and the exhausting effort of putting on a brave face so no-one else would know.
During my worst
period of depression, I realised I needed help.
Gritting my teeth and getting on with it wasn't the answer.
I found an amazing therapist, and with her help, I recovered from my depression and got my anxiety under control. 
I realised that my mind had been clouded with negativity, self-recrimination, fear and harsh self-criticism for most of my life.
When I saw that truth
I understood that part of my problem was that I was living someone else's dream, and trying to be someone I wasn't.
It was an epiphany that changed my life.  Finally, I was able to open my heart, and follow it.  And I felt brave for the very first time. 
I began my therapist training with absolute joy, and the certainty that I was doing the right thing, and I've never looked back since!
No Regrets…
Despite the misery of those anxiety-ridden years, I'm grateful for this gift of life experience, because it means I "get it"; I really do understand just what it's like to live this way, and that's why I'm so passionate about helping others with their journey towards recovery. 
And it means that I can assure you with confidence and experience; when you take the right steps to deal with it and overcome anxiety, your life becomes limitless.
I want you to know how amazing it is to feel confident and in control
of your emotions
of your thoughts
of your life
I want for you to experience the moment where you truly believe, perhaps for the first time, that
Change Is Possible
and then make that change your new reality.
Compassionate Practicality – my Guiding Principle
It is what it sounds like, but especially, it's this…
Flexible, individual approach
Practical solutions
Acceptance and understanding
Handling emotions gently and sensitively
Positive change
We might not be if
you're not willing to do some work for yourself outside of our sessions
you're not ready to reconnect deeply with yourself and your feelings
you want a "quick fix"
you're not committed to long term change
If this is you, it will probably mean I'm not the right person to help you on your healing journey.
We definitely are if
you're ready to do the work with me, and practice what you learn outside of our sessions
you are willing to look inside of yourself and discover what's really going on
you're ready to embrace long term and positive change
If this is you, then it's likely we'll work really well together.  I can't wait to connect with you!